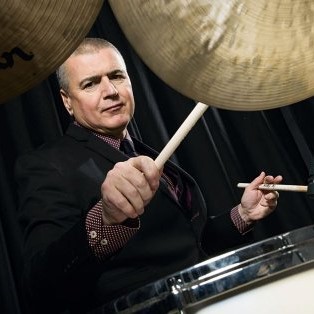 He Bangs The Drum! In Conversation with Steve White
Mr Tim Vickery in conversation with Steve White  (former Style Councillor and Weller sticksman) and now of 'Hague and White' fame.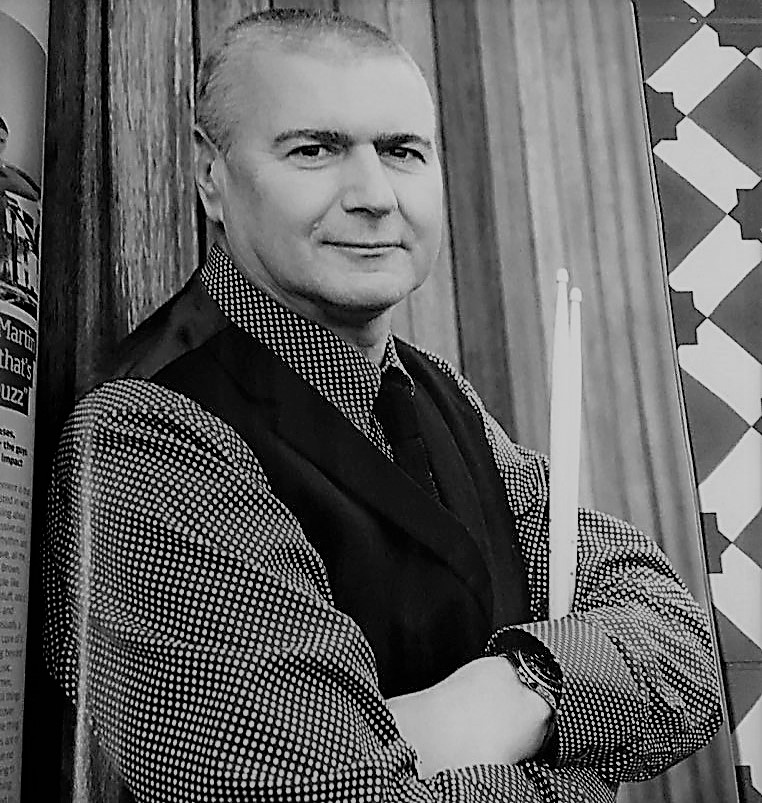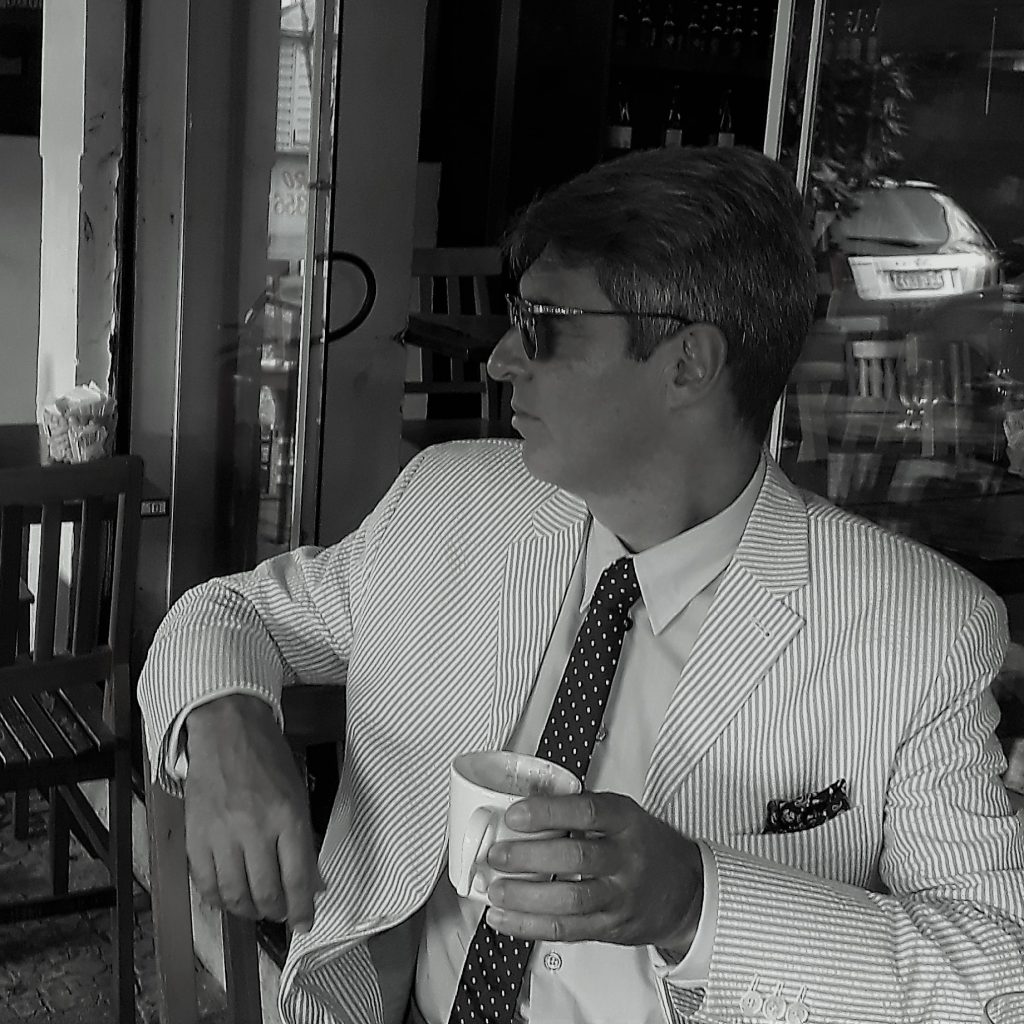 Many journos are insanely jealous of musicians.
Doesn't matter what we do as journalists, we just can't 'get' people on the same level as they can. We just don't help form  identities or hit the most profound emotions of our audience. Musicians and their work goes much deeper.
Three moments in my musical journey; summer of '76, 11 years old and Beatles films are on TV, for the first time I think.  From the first chord of 'Hard Day's Night' I was hooked.  I wanted to be a Beatle.
Fast forward just over 2 years, and I'm 13, hearing 'Down In The Tube Station' for the first time – it's like a Beatles for our generation, telling our stories.  Just a few months later I was making my own ham-fisted attempts to form a band.
Moment number three comes in March 1984, Dominion Theatre.  The first (The) Style Council tour.  If The Jam were about what we were, the Council were about what we could be, who we could be, where we could go.  A journey into our own potential, acquiring taste and discernment along the way.  Had never been abroad, and wouldn't for a few more years, but worlds were being opened up in front of my eyes and ears.
It felt like coming home and going somewhere new, all at the same time.  I wanted it to keep on going all night, blowing sweet and angry, joyful and wistful.  And the moment that the deepest impression, that kept on playing round and round in my head for weeks afterwards, was the drum pattern underpinning 'Long Hot Summer', played by Steve White.

It didn't matter what they did – from the subtlety of 'Long Hot Summer' to the drive of 'My Ever Changing Moods' – Steve was caressing the kit and dropping those bombs.  The eclectic range of the Council was made possible by a teenager.  Throw in the fact that we're the same age (I'm less than a week older) and it's no wonder I was fascinated.  He was my representative on stage, so I'm very lucky to have the chance to ask him a few questions.
Steve, what are the key moments in your musical journey, those that have shaped your identity?
"Hearing Louie Bellson and Buddy Rich live for the first time, courtesy of my dad, and realising just how good it was possible to be, as a drummer. That wonder has never ceased . Meeting Glenn Tilbrook and Chris Difford and then shortly after Mick Talbot and Paul Weller who really made me understand how important it is to play for the song; Ian Dury for giving me the faith to be myself as a drummer and Jon Lord for reinstating my confidence after leaving Paul after 25 years. Live Aid , Live 8, the whole of the period between 83 and 87 , the council years and the period of 89 to 96 when we released the first solo album playing to a few hundred, and finished playing stadiums."
Some were baffled by The Style Council.  I think in my case it helped that I'd read Absolute Beginners.  Without that, it would have been easy to overlook the importance of modern jazz in the formation of our own youth culture.  Even so, it took me years to really immerse myself in the genre.  I didn't really get into Joe Henderson or Lee Morgan until comparatively recently.  But you seemed to be there, on it all, at the age of 18.  How on earth did you do it?
"Because of my early exposure via a drummer called Gary Buckner, who gave me an album called 'Kings of Percussion', it featured Buddy Rich , Gene Krupa and Louie Bellson, and then at 14 going to see these people play , to say my eyes were opened would be an understatement! From Buddy and Louie I discovered Art Blakey courtesy of the BBC jazz programme on Radio 4 . The remit with Paul was to try not to play it straight, hence the bossa and jazz influences in the drumming."
Was there a downside to being successful at such a young age?
"Actually no ! It was wonderful! I was a very disciplined young man; I was into my drumming, into Kung Fu, never took drugs, barely drank. There was no social media telling me how famous I was; luckily I've never suffered from mental health issues which I believe affect a lot of people in the creative arts. I can honestly say that I had a ball and am still doing so."
A mate of mine here in Brazil is a drummer – for years he was in a hugely successful band, and these days he makes TV programmes about music.  But there's a price; he told me that these days he's lost that rush of emotion, that magical feeling of being transported on a magic carpet, that music provides.  It's become a job.  I find that so sad.  Has that ever happened to you, and what do you do to guard against it?
"Some jobs become a chore.  Sometimes on tour you would want to be home. That's just natural, but if I ever felt like that, I would stop doing it. Music isn't something you do without a flame in your heart; if you are doing it with no love or passion, you might as well do something more profitable."
Are you one of those musicians who always secretly wanted to be a footballer?
"No, not really , I'm mates with Dion Dublin and also met Gazza a few times back in the day, including a memorable night with Gazza and Liam Gallagher in Scotland ! My experience with football has always been with the team I've always supported. Watching Charlton Athletic, I have got to see Beckham , Cantona , Di Canio and Rooney all play at the Valley and be at Wembley for the playoffs against Sunderland. My twin boys support Manchester City, but that's cool with me ."
Do your kids relate to music, style and football in very different ways from our generation?  How does that make you feel?
"My eldest boy is mad into fashion and football and followed me as a Charlton fan, the youngest boys got into City via my wife. My daughter works in the cosmetics industry; she loves R and B, her version of R and B is Drake and Nicki Minage.  I think it's hard for youngsters now to stand out from the crowd, youth culture is much more homogenised now: cults and subcultures like mods, skins, rude boys etc. don't really exist. I think I've done my best, and the youngest boys love Bowie and the Beatles, and their mum, my wife Sally, is an actor, so between us and our group of friends they mix with lots of creative people in fashion, music and arts. It's definitely giving them confidence to try things which is all I want."
Football was very much my dad's thing.  Before I came along he played to a good standard – I think he once had a trial with the Charlton, certainly he had an old mate who played there.  I inherited the interest (but none of the ability). Music and clothes were all about separating me from my dad, forging my own identity.  How did these things play out for you?
"Well I still go to the Valley,  and they are doing really well despite the owner, who I would question whether is 'fit for purpose'. I saw my first match – probably in the early 70's with my dad, grandad and uncle. My eldest still goes, my youngest boys do support city, but still come to watch the reds. My dad took me to see Buddy and Louie; my parents watched my brother Alan make history at Knebworth with Oasis and my parents also really like The Hague and White album which has just come out –  so I think things have turned out well."
I'm the proud owner of ten Pellicano shirts, and I can never decide which is my favourite.  Love my light blue button down, but the pink one is special, too.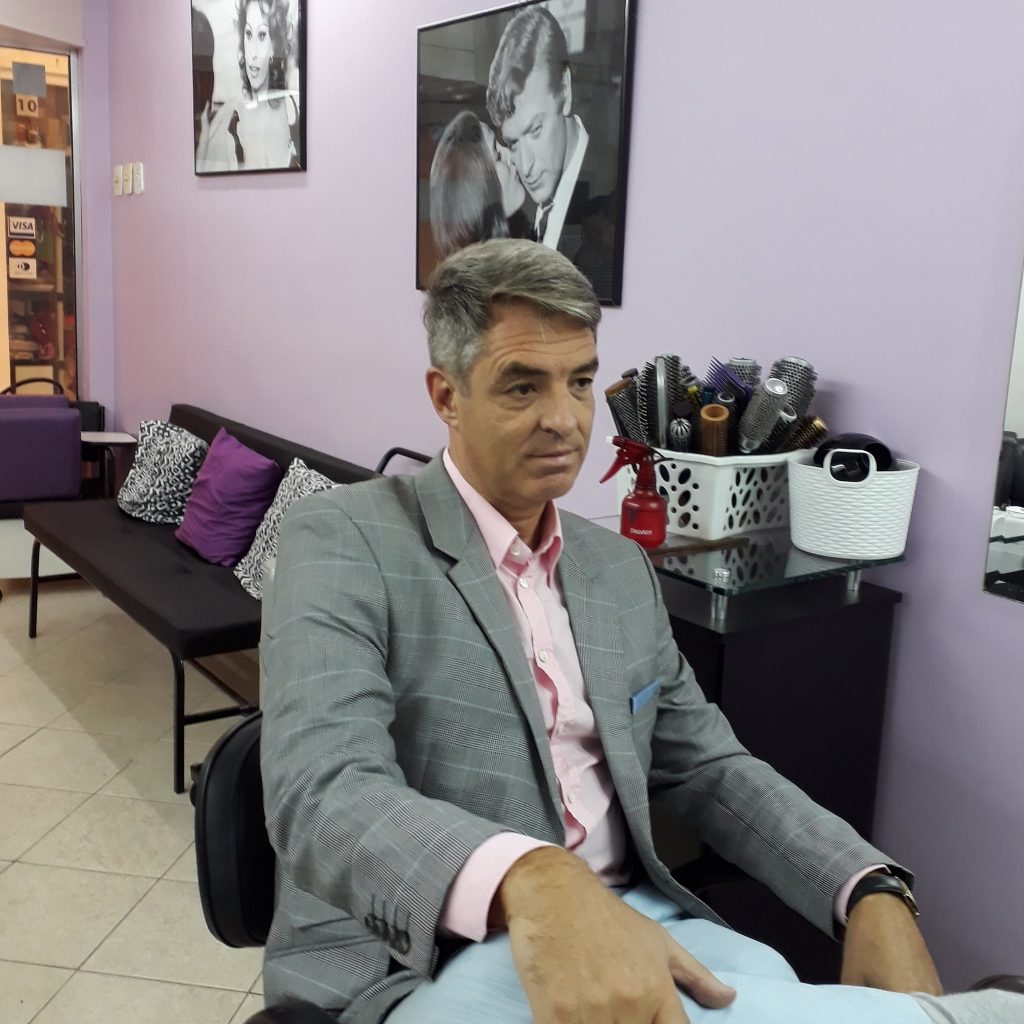 Then there's one with lemons on it, in a material which is fabulous for the weather in Rio, and the green circles is a genius idea.  Which of your Pellicano's would you save if you were in a tight spot?
"That's a hard question!!! I adore the quality and fit , I have a beautiful blue large stripe I love and my Paisley button down – it is a real eye catcher. I'd have to grab them all."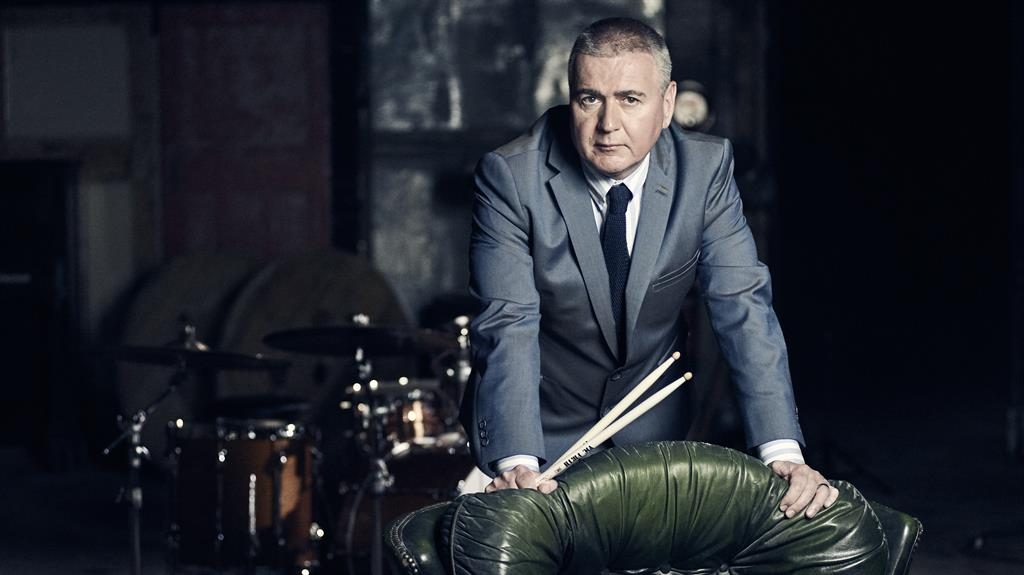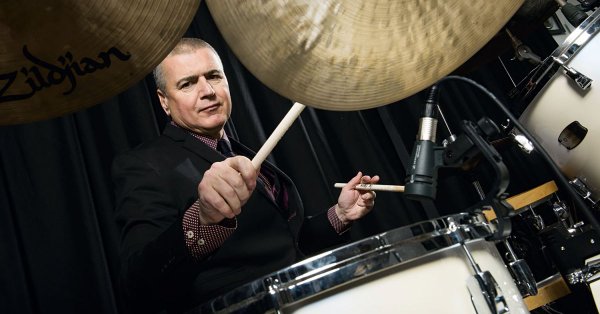 (Steve sporting his Pellicano polka dot print and still available! – click to browse)
And finally, how does the stuff you're doing now compare to your work in the past?
"Well I like it. In the past few months I've played on Matt Deighton's excellent Doubtless Dauntless album , I've played on both of the Argh Kid ( David Scott ) singles, I've contributed to the Stone Foundation album and done live shows with them.  I've got my own drum school, and I've also got new music just out on the excellent Monks Road label.
Additionally, I've got The Hague and White project :
'The Eleventh Hour' is as good as anything I've done in my career. The rub is that as an older musician it's very difficult in Britain to get people of a similar age engaged in new music. The appetite is more for projects that are from the, or featuring the… past. Britain is a very inward looking country with a heavy delusion about how good the past was; it's at odds to how I feel but I don't let it get to me and just do what I do ."
A line from Steve's last answer keeps going round and round my head – the deluded British idea of how good the past was.  Easy to apply to the evils of the empire; how much does it ring true of other aspects of our culture?  It's all too tempting to fall into romantic ideas of golden ageism – I do it all the time when I'm re-reading Absolute Beginners.  Steve, meanwhile, has faced the thing head on, like a true Modernist.  Reminds me of the need to keep thinking of new routes into tomorrow.
Steve White – just as much of an inspiration in 2019 as he was in 1984.
Steve White in conversation with Mr Tim Vickery – BBC South American football expert and eternal modernist. In association with Pellicano Menswear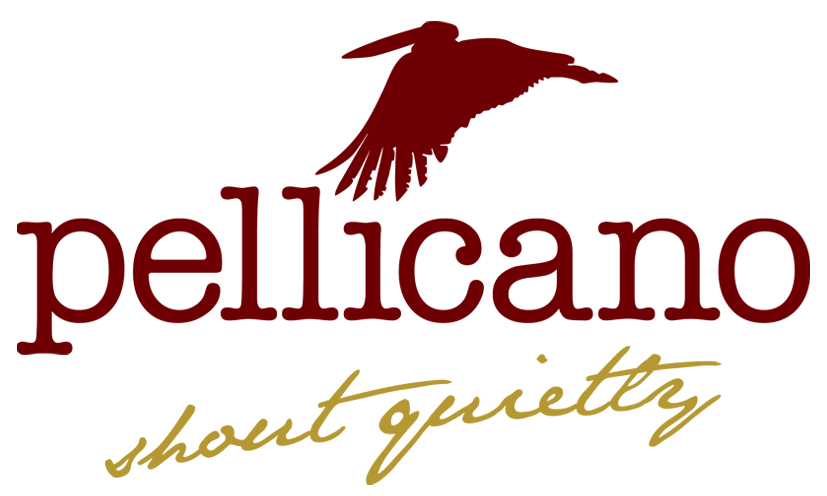 For more on Tim Vickery try:   Twitter @Tim_Vickery
For more on Steve White try: Twitter @drummerwhitey
To buy 'The Eleventh Hour' by Hague and White just click *
*Pellicano Menswear is independent  to Piccadilly Records and is not responsible for any transaction buyers may have with the company.