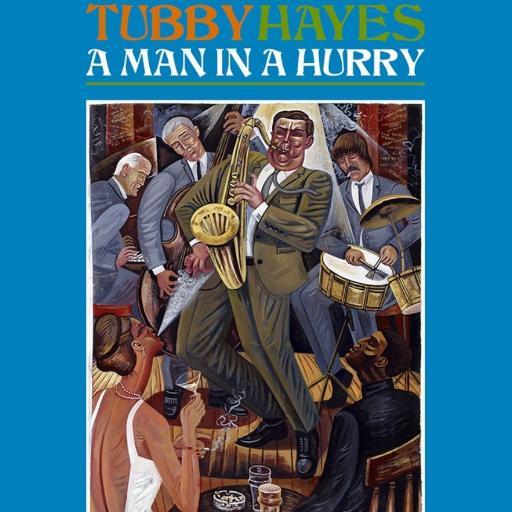 A film review of Tubby Hayes – A Man In A Hurry' – narrated by actor and Hayes fan Martin Freeman (produced by Mark Baxter/directed by Lee Cogswell) by
Best to get the excuses out-of-the-way first. Prior to watching Mark Baxter's and Lee Cogswell's masterful biopic about the legendary British Jazz man I didn't know who Tubby Hayes was. Okay, I'd seen Alfie, and endless re-runs of The Italian Job (we can all quote Mr. Caine as he barks 'yer only supposed to blow the bloody doors off' but how many of us know that Tubby played on the soundtrack). I'd  even seen Dr. Terror's House of Horrors in which Tubby stars and performs a mesmeric virtuoso performance on the flute, pushing said instrument to the very limit of playability. So, considering his cultural importance, why when his name was mentioned did I quiz, Tubby who?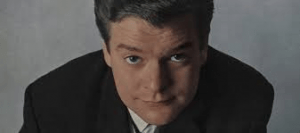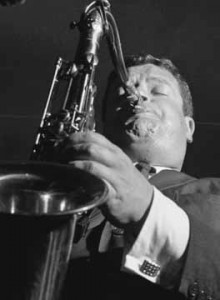 Age could be a factor. I left school in 1985 and would be more likely to have been found swinging my plastic gladioli to Jonny Marr's jangling guitar than splashing around in the balmy waters of late 50's to mid 60's jazz. After all, when he died an untimely death in 1973 I was five. Gary Glitter was storming the charts ahem…Still, I'm now 47 so the excuses don't wash. I should have known, I really should. And Tubby Hayes, A Man in a Hurry, makes it clear why.
At a brisk 55 minutes the film lives up to its title as it charts Tubby's early years from musical prodigy son of a St. Pancras violinist to his tragic early death as he succumbs to his hero's Charlie Parker predilection for horse. As the film shows it was ever going to be thus 'he burnt the candle at both ends then started on the middle'. A man of enormous appetites drink, drugs, women reflected in the Tubby moniker his candle was always going to burn bright but alas, far too briefly.
Ably narrated by super Jazz sleuth Martin Freeman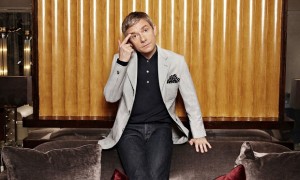 and an array of Soho legends and faces notably Peter Blake, Michael Horovitz, Spike Wells, Eddie Piller and Patrick Forge (the fact that Mr. Paul Weller was an executive producer of the film shows Tubby's influence on our own times)- the film creates an image of a man who surpassed his fairly humble surroundings to become not only a household name but the 'go to guy' for the likes of  Duke Ellington, Henry Mancini, Ella Fitzgerald and Dizzy Gillespie. Such glamour is hard to credit when we picture his cherubic, normal bloke appearance, pint in hand (one of most famous songs is the swinging sass of  A Pint of Bitter,  the title sounds like a joke, the tune isn't) but Tubby had major clout.
  Tubby Hayes 1963 – 'How To Succeed In Business'
So, cue George Best, where did it all wrong? Two reasons. Firstly, he was British, and British Jazz despite the best efforts of Ronnie Scott (Tubby's long time collaborator and early mentor) always played second sax to the US artists. The second reason: The Beatles. Jazz so hip in the early post-war years was suddenly swept away by Beat-crazed Brits eager to embrace pop. There was just no room left for Jazz. So, Tubby turned his ample talent to soundtracks creating some of the most memorable moments in British cinema history: remember the cliff hanger at the end of  The  Italian job as the gold-laden coach teeters precariously on the cliff, the sound of the sax- Tubby; Alfie….Tubby and the aforementioned Dr Terror's, worth watching for the flute scene during the incredible Voodoo Session alone-Tubby. Factor in he was the original 'Mod' the term first used to differentiate between Traditional (Trad) and Modernist (Mod) Jazz and his legacy of effortless British be-bop, still available on vinyl and CD, and the conclusion is clear, we're long overdue for a Tubby Hayes revival
 To buy:
So, a man in a hurry, yes. A genius who left the stage far too early, absolutely. Someone who deserves to be discovered by a new audience, definitely. After being introduced to this lost genius of British musical cultural I no longer have an excuse not to listen and- presuming of course you share my ignorance- neither do you.
-Flash Harry
To Buy 'A Man  in a Hurry' click below: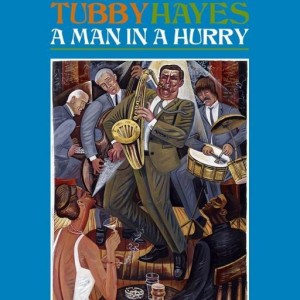 To shop Pellicano Menswear click below: